Check out our review roundup of a great D&D battle map – the Original Battle Grid Game Board from Melee Mats.
D&D Battle Map: The Original Battle Grid Game Board
Price
Durability
Usefulness
D&D Battle Map Summary
Overall, this is a rock-solid classic D&D battle map. It's available for around $20 and will do the job. Once you begin to read the reviews on Amazon and elsewhere, you can begin to see why this is such a favorite with tabletop RPG gamers. It's simple, durable, and will last for many battles. On this page, I'll go over some of the good and bad about this D&D battle map so that you can make up your own mind about a purchase.

D&D Battle Map Overview
With over 1,800 reviews on Amazon, the Original Battle Grid Game Board from Melee Mats is the go-to D&D battle map for many people. They've even become Amazon's Choice for "dry erase grid!"
D&D Battle Map Amazon Reviews
Next, let's take a quick look at some of the reviews on Amazon for this tabletop RPG accessory.
The good:

Unlike some other mats that roll up, this one is kind of like a Monopoly board that folds open. A concern of mine was the durability of the mat when you would open and close it all the time, but even after a few months it's still fine, but just handle it with care in the first place either way. It works well with most markers, and speaking of markers, the inlcuded ones aren't half bad. I still use them and the write and erase perfectly, even when left on the mat for a while. The eraser works as it should, nothing special there. And the dice that came with it is also pretty decent, obviously not top-tier but then again they're still pretty good and some of my new players that don't have dice like to play with them.

The bad? (not bad really):

Honestly, there's almost nothing bad I can say about this mat and the included accessories. Like some others pointed out, it is slightly bulky with the box, but honestly I feel people are being too critical about it – it's still a very easily carried box guys. Can you fit it inside a backpack? Sure, if you had a slightly larger backpack than most. I don't put it in my backpack because that's where all my D&D books and folders go, but I also use the box of the mat itself to store some other things in like my DM screen, campaign books (all my homebrew campaigns), extra dice sets, as well as the markers and stuff that come alongside the mat.

My conclusion:

If you're looking for a good mat that's not massive, nor too small, that will last you a long time (with care of course) that also comes with the best accessories compared to any other mat out there, this is the one to go for. It's good quality, and really it just works. Also, the company making these are really friendly and helpful in case you do have an issue with it (I didn't have any issues with my mat, for some survey reasons they contacted me to get feedback from my experience with the product which some people might have an issue with, but personally it doesn't bother me).


Source: Jacques Celliers at Amazon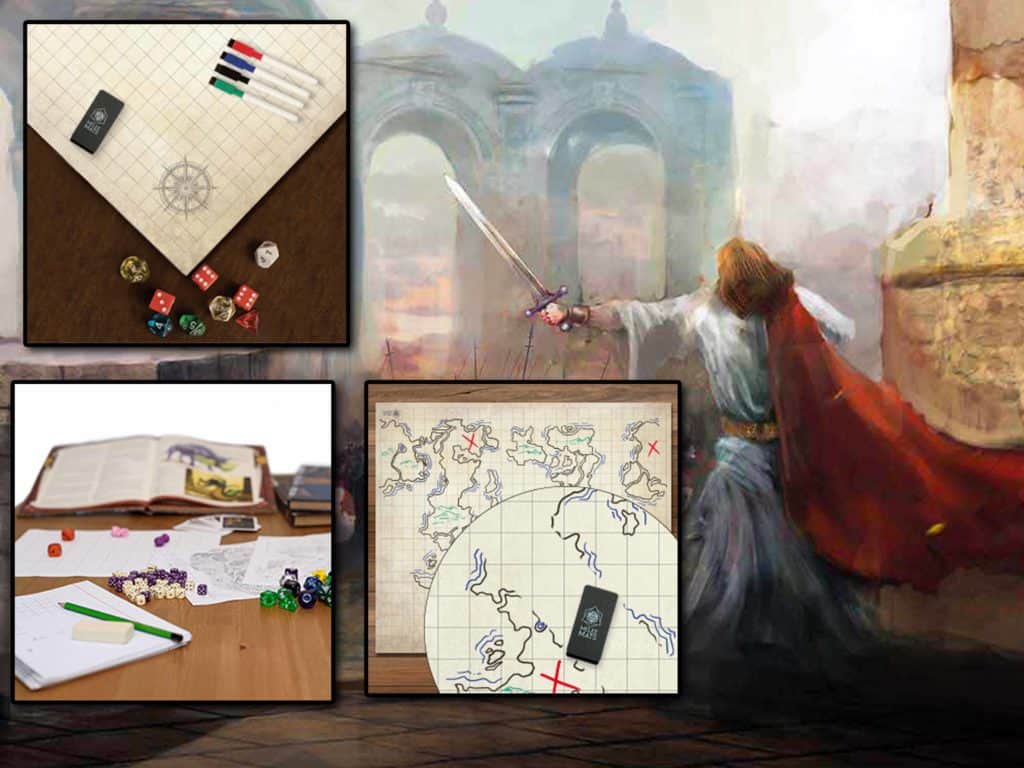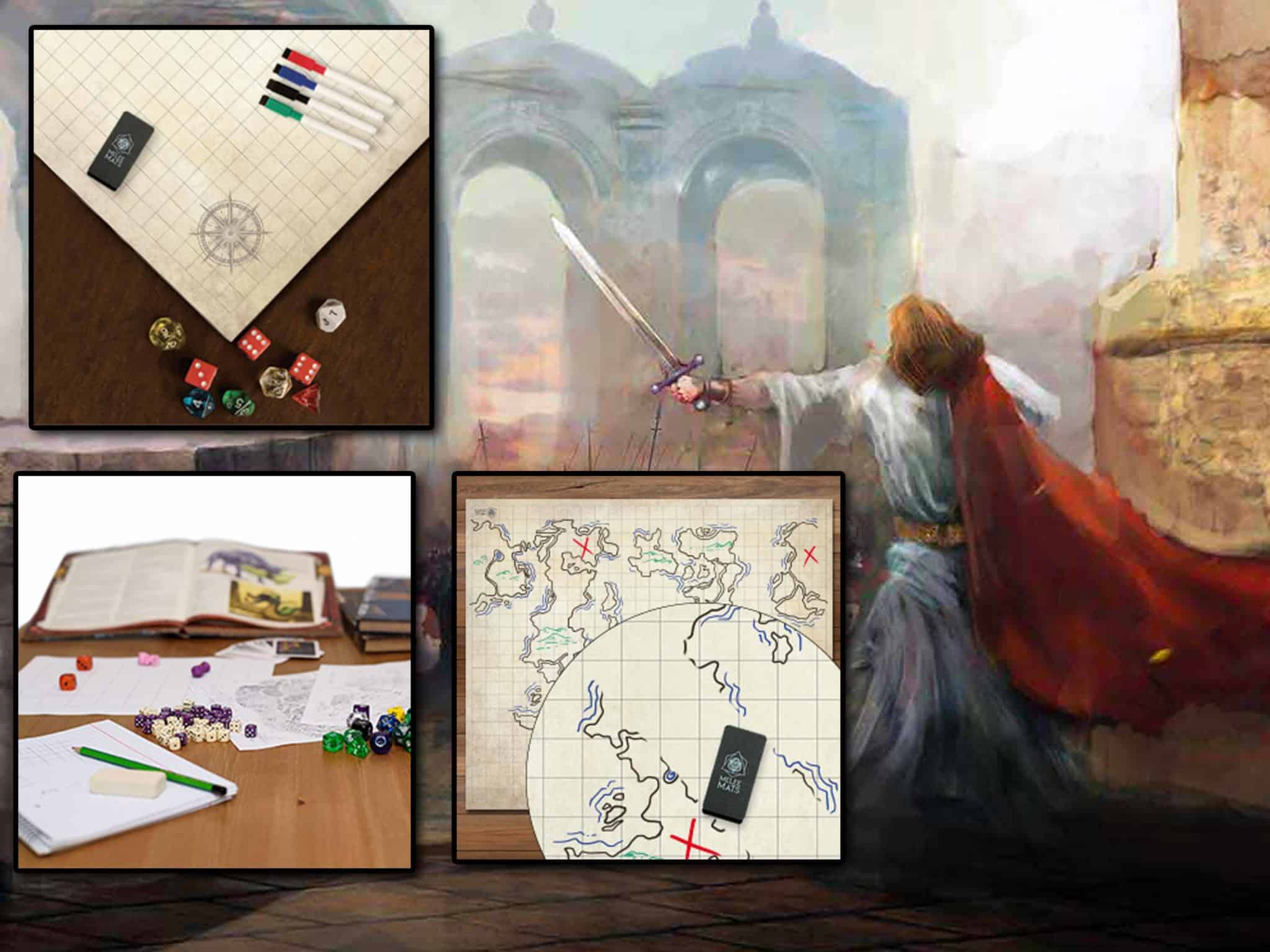 D&D Battle Map Manufacturer Information
Here's some info straight from the manufacturer, Melee Mats.
A REAL RPG MASTERS "MUST HAVE" – While other mats easily stain, are difficult to store, and are a hassle to transport, Melee Mats Double-Sided Game Board is THE TOP premium, foldable, wet/dry erase compatible mat. It comes in a spacious 14″ x 12″ x 1.75″ box that will fit in most gaming bags! It also comes with one BONUS polyhedral dice set, a set of multi-colored markers, and an eraser. This means limitless adventure opportunity for your party and incredibly convenient, and effective mapping.

SAY GOODBYE TO ROLLING EDGES – No need to add weights to the corners of your battle mat or wait hours for your mat to flatten before gameplay. Our tabletop gaming board will restore order and sanity to your everyday life–saving you time and discomfort while keeping everyone happy. Miniatures can now remain firmly in place rather than regularly falling prone.

DOUBLE SIDED – REVERSIBLE & VERSATILE – 1″ square and 1″ hex grid wet/dry erase tiles have become a versatile necessity when it comes to meeting your RPG needs. The spacious box allows you to keep organized and store your miniatures. Great set for starters & masters alike.

SUPPORT SMALL BUSINESS – We are a USA-BASED COMPANY – We proudly design & inspect everything in the USA

MELEE MATS GUARANTEE, we are dedicated to your satisfaction, which is why we offer a manufacturer 90-day money-back guarantee.

Source: Amazon Product Page