Mimic Dice Chest Storage Box Review
Durability
Price / Value
Cool Factor
Summary
Magical Mimic Dice Chest Storage? Yes, yes, yes, yes please! Can you tell I'm excited about this product. You will be too by the time you're done reading. Overall, this Magical Mimic Dice Storage Chest from Forged Dice Co. is a great, quality gift idea for any gamer. I wouldn't say anything if you grabbed this baby for yourself. Keep reading for more…
Mimic Dice Chest Overview
Created by Forged Dice Co., the Mimic Chest Dice Storage Box is for people who love mimics and/or dice. In all seriousness, this thing holds 5 sets of standard polyhedral RPG dice or 35 individual dice. That's smaller than most dice-hoarders collections, but it's a great number of dice to take on the road. Besides, you don't want to be lugging a mimic the size of a ice-cooler, do you? Okay, maybe you do. Still, this is a great way to transport dice to the gaming table.
Mimic Dice Chest Storage Box Reviews
Next, let's take a look at some reviews for this bad boy.
My husband got me this as a Christmas gift, and it is AMAZING! It's so well painted and detailed, the hinges feel sturdy and there's a thin ribbon on one edge to keep the top from going back too far and straining the hinges.

My husband said that he ordered it despite a couple negative reviews, but he said he was completely blown away by how great it looked when he opened it up.

It would be cool if it had even more teeth, but I get why they couldn't fit anymore in there heheh. I've always loved mimics, and this is for sure getting displayed in our game room 🙂

Source: Em and Amazon
Did I mention this thing has nearly 500 Amazon reviews? Here's another…
A very well done dice chest! The box is heavy and solid; the painting is excellent and the teeth are great – exactly the kind of piece you want if you're looking for a mimic! I currently have three dice sets in mine; you may have to shake the box gently to get the dice to best line up to close it properly if it's full, but you should have no trouble. I would gladly recommend it to anyone.

Source: Joshua at Amazon
Apparently, there was an unpainted version that went out, but that's been sorted, it seems.
The very first thing I want to say is to not be scared away by the reviews of receiving an unpainted version! They are aware of the problem and even sent me an email just in case saying that if I received an unpainted one, to let them know and they would send out a painted one NO CHARGE.

So it is totally risk free! I felt it was important to note because the reviews about receiving unpainted ones made me nervous. Now, onto the product. I can't believe this is hand painted! They did a wonderful job! Usually with hand painted items, I've had issues with paint accidentally overlapping into another area that it wasn't supposed to, but this is completely clean!

I expected flaws and got none! I put in a picture of my hand to give you an idea of the scale because it was smaller than I pictured, but the size isn't an issue because it will still hold more than enough dice.

On top of that, the cost ratio with the size of the hand painted item is about what I would expect and it's honestly a very fair price. It comes in a really nice box, but the box might give away that it's a mimic so I might have to get a different box. I think he will love this! Thanks!

Source: Leeah at Amazon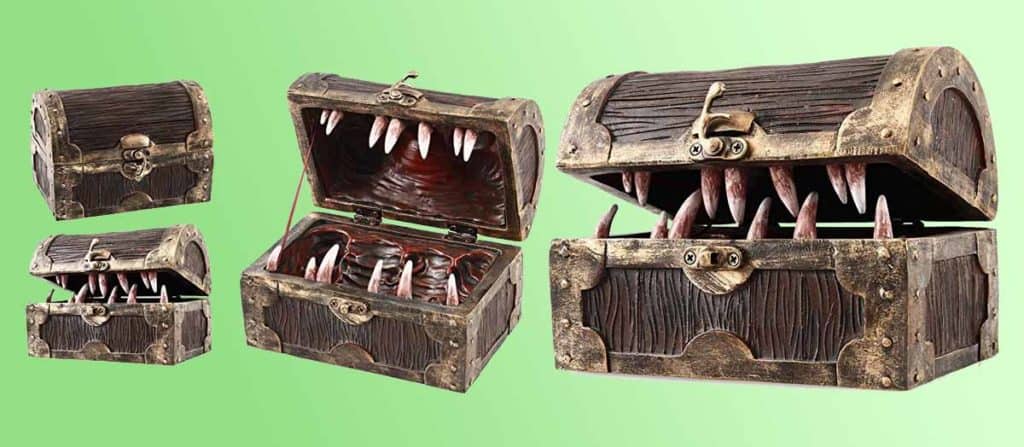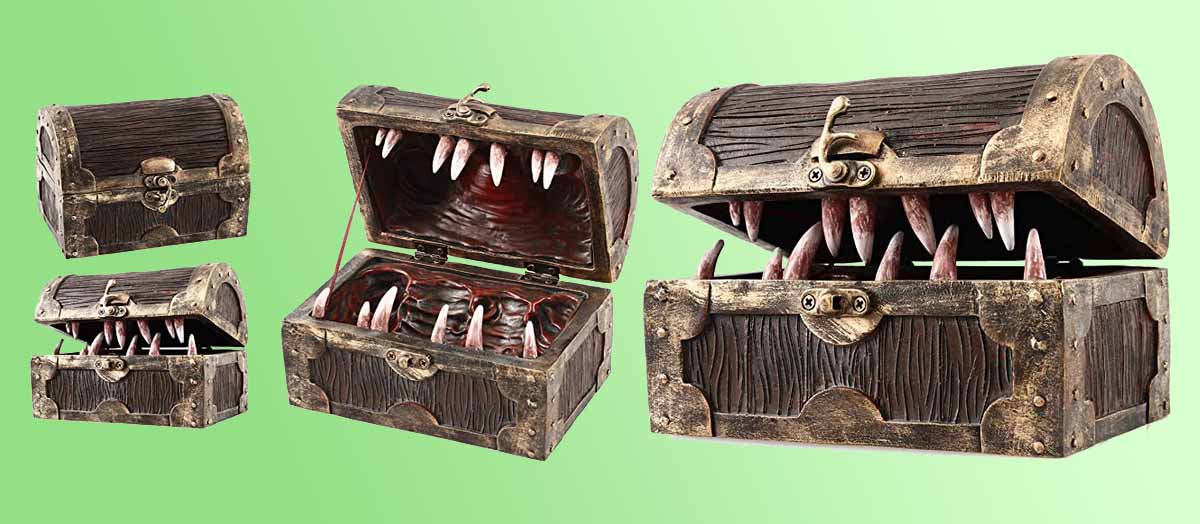 From the Mimic Dice Chest Makers
Now, a word from the manufacturer!
Hand crafted and hand painted our Mimic Chest box has enough room for 5 sets of polyhedral dice. Don't just show up with a boring bag of devouring or plain old dice bag! Set this inconspicuous treasure chest on the table and stun your gaming friends when they open to reveal the vicious teeth of a MIMIC!

Weighing in at 1 pound 8 ounces and made of polyresin this treasure check dice vault is no cheap trinket holder. When closed, there is no sign of anything out of the ordinary but when opened the mimic's teeth and bounty are revealed.

Dare to remove the precious bounty captured by the Forged Dice Co. Mimic Chest!.

Source: Forged Dice Co at Amazon