Bard Dice
Summary
Looking for some bard dice for your Dungeons & Dragons campaign? Look no further! The fine folks over at Awesome Dice have come up with specially curated sets of D&D dice based on your character class. Cool, right? We're going to take a closer look at their selection of bard dice. Please note, I'm an affiliate with them and will make 10% per sale. This does NOT add to your cost, and it helps me keep this website running.

Bard Dice: "Bardic Inspiration" Cannabis-themed Dice Set
The unique cannabis-themed "Bardic Inspiration" RPG dice set at AwesomeDice is something you're not going to see anywhere else. The resin dice are encased with a smokey vapor and are inked in green. Legend has it that if you roll a 4 then a subsequent 20, you will receive high blessings from a high elf! In all seriousness, this is a unique set of bard dice that will have everyone at the table wanting to check them out and roll them.
Bard Dice: The Lilac 7-Dice Set
These are unfortunately out of stock at the moment, but they're a great set of bard dice. They start with a translucent base then add bands of violet and blue abound each die. Next, violet and blue glitter are added. Overall, this is a fancy looking dice set that really fit a bard theme. This is a standard 7-Dice set, consisting of a d4, d6, d6, d10, Percentile d10, d12, and d20. 
Bard Dice: Gemini Purple-Teal 7-Dice Set
These bard dice are standard-sized 16mm dice, but when you step back and really take a look at them, you can begin to appreciate their true beauty. These RPG dice are perfect for bard characters. The purple color really came out well in these dice. As with other sets, you get a d4, d6, d6, d10, Percentile d10, d12, and d20 for a total of seven dice for one low price. Check them out today!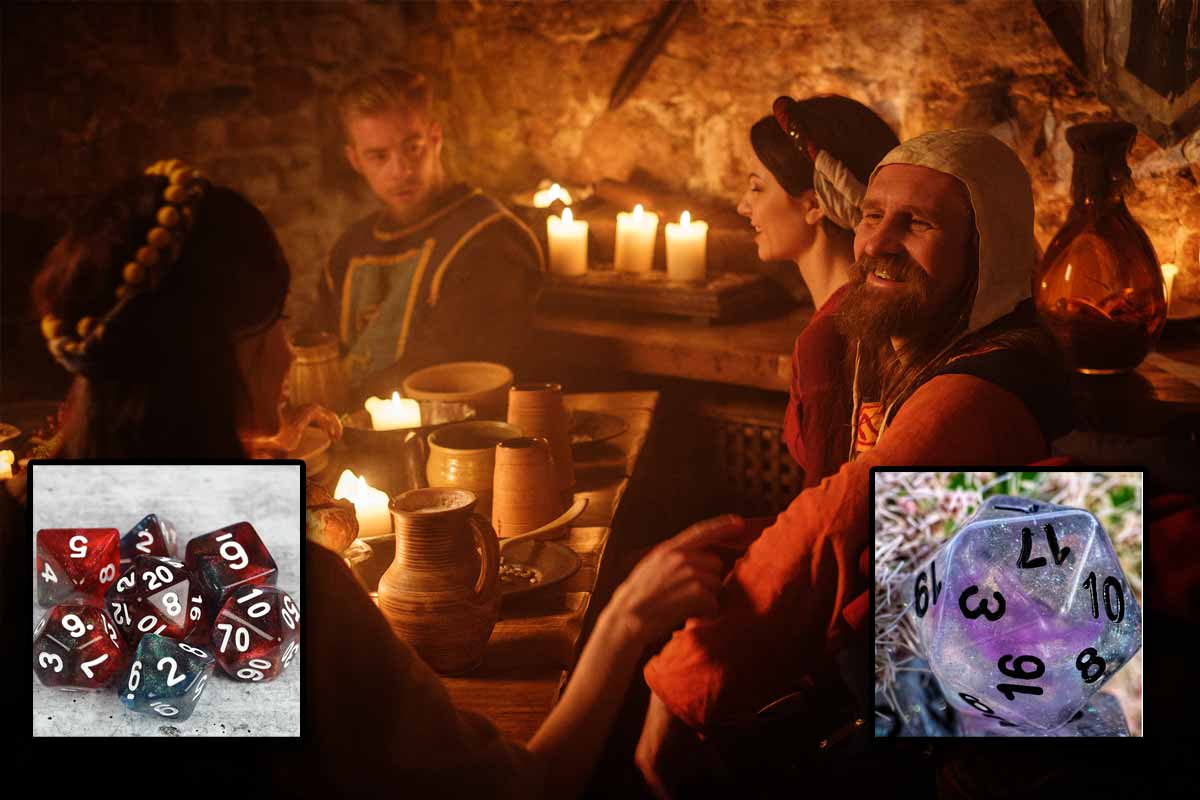 Dragon's Breath RPG Bard Dice Set
Just because they have the word dragon in the name doesn't mean they can't make a great set of bard dice. A mix of red and green resin really goes a long way in capturing the name of these dice. Or were they created and then named? Either way, they'll make a great addition to your dice collection. As always, you get seven dice for one low price. Check these darling dice out today.
Ro Chrome Bard Dice
These are also out of stock at the moment, but that's just because they're so amazing. You'll want to check back and grab a set of these as soon as they become available. With chrome glitter and pink vapor, these bard dice are super easy to read. They're also easy on the eyes if you know what I mean! In all seriousness, if you're playing a bard character, you'll want to consider buying these dice.
Beyond Bard Dice
Finding the perfect set of bard dice to accurately reflect your D&D character can be a pretty daunting task. With AwesomeDice, this doesn't have to be a problem. They have a rock solid reputation and have been providing dice to gamers for a while now. When you take a look at the reviews on their website, you can see dedicated fans that have been coming back for more.
If you're looking for D&D dice for other character classes, AwesomeDice has you covered. We'll be looking at some of their other collections in the weeks, months, and hopefully years ahead. I want to curate a stellar collection of D&D dice so that gamers have a resource they can rely on to find a great set to help them destroy a classic dungeon or slay a terrifying dragon.
Until Next Time!
Hopefully, you enjoyed this Bard Dice review/guide/recap. Thanks for reading! Now, go get you some shiny click-clackers!
NOTE: I am an affiliate with Awesome Dice and receive a small cut of the sale price in exchange for linking to them. Please keep that in mind. I still think they're wonderful dice that will make many gamers happy.